Investigation of teachers' educational technology standards self-efficacy
Abstract
The main purpose of the research is to investigate educational technology standards self-efficacy (ETSSE) of teachers. Quantitative research methods, namely he survey and correlational (prediction) research designs, were used in the study. The participants of the research are constituted of teachers (n=419) who served at secondary (n=10) and high schools (n=6) in the nearby districts of Diyarbakır, in the spring semester of 2014-2015 academic year. While no significant differences were found in the ETSSE and all sub-dimension mean scores with regard to level of school teachers serve in, teaching experience and their degree of learning, the scores of ETSSE significantly differentiated in terms of teachers' gender and branches. According to the regression analysis, the attitudes towards using technology in education and level of developing materials for lessons had the most important relation in explaining ETSSE scores (R=.47; Adjusted R2=.22; p=.00). When the views of the teachers are investigated with regard to their ICT usage: in planning and preparation for the course, in designing the course content, in the course of instruction, measurement and evaluation process; ETSSE scores were differentiated in support of the teachers who used ICT in all the process of the lessons than the others who used ICT in one or two different processes.
Downloads
Download data is not yet available.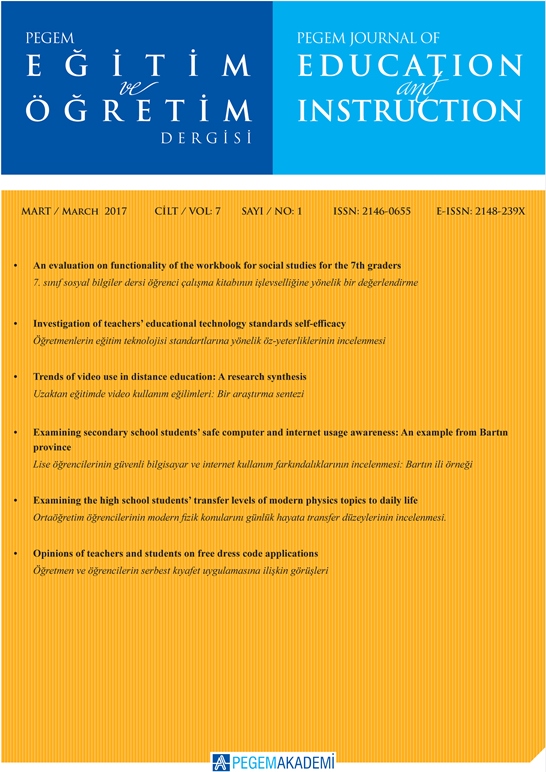 How to Cite
Şimşek, Ömer, & Yazar, T. (2016). Investigation of teachers' educational technology standards self-efficacy. Pegem Eğitim Ve Öğretim Dergisi, 7(1), 23-54. https://doi.org/10.14527/pegegog.2017.002
Attribution — You must give appropriate credit, provide a link to the license, and indicate if changes were made. You may do so in any reasonable manner, but not in any way that suggests the licensor endorses you or your use.
NonCommercial — You may not use the material for commercial purposes.
No additional restrictions — You may not apply legal terms or technological measures that legally restrict others from doing anything the license permits.