Prospective English teachers' habits and perceptions of online reading
Abstract
One of the basic language skills, reading is considered to be a key to improve critical thinking skills and to grasp different perspectives by experiencing changing nature of world. It is an inevitable fact that teachers, who are responsible for contributing to widen students' horizons and aid them to gain new insights, are still regarded as sources of knowledge even in such an environment surrounded by high technology facilities. Therefore, it is crucial to see whether, and/or how often, prospective English teachers are interested in online reading and what kind of perceptions, or feelings, they have towards reading online and making use of such online readings in their future profession. In this respect, the current study aims to find out prospective English teachers' online reading habits and perceptions. The data was collected via convenience sampling which is a type of non-probability sampling. Accordingly, the study was conducted at two different universities in northern Turkey and a total of 164 prospective teachers of English (37 male, 127 female) took the survey. The study suggests that the literacy focus has been turning from paper to online. Online reading is considered as a valuable source of knowledge, a tool for reaching educational goals, an integral part of English language learning and a crucial constituent of language teaching profession. It seems to contribute a lot to prospective English teachers who are developing their professional, procedural and personal knowledge base so as to be effective teachers of future.
Downloads
Download data is not yet available.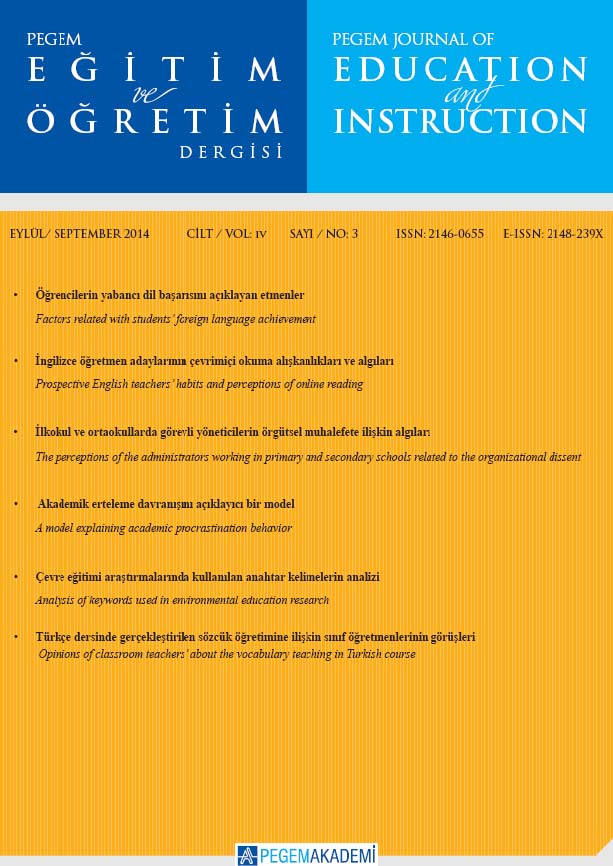 Downloads
How to Cite
Kayaoğlu, M. N., & Dağ Akbaş, R. (2014). Prospective English teachers' habits and perceptions of online reading. Pegem Journal of Education and Instruction, 4(3), 19–34. https://doi.org/10.14527/pegegog.2014.014
License
Attribution — You must give appropriate credit, provide a link to the license, and indicate if changes were made. You may do so in any reasonable manner, but not in any way that suggests the licensor endorses you or your use.
NonCommercial — You may not use the material for commercial purposes.
No additional restrictions — You may not apply legal terms or technological measures that legally restrict others from doing anything the license permits.