The strategies of brand image building at private institution of Islamic education in Purwokerto
Keywords:
Brand Image, Strategy, Islamic Private School
Abstract
This research aims to analyse the strategy implemented by private institution of Islamic education in building brand image. It is very crucial for the educational institution to build the brand image in order to survive within the competitive struggle. Unfortunately, there is still a few of Islamic education which is aware of it.  So, they have difficulty competing with other educational institutions having significant capital, a good brand image, and been accepted by the wider public. The method used were interview, observation, and documentation while to analyze the data the researcher used  data collection, data reduction,  presentation of data, and conclusio. The result showed that madrasa conducted developing brand awareness by highlighting the distinctiveness and excellence possessed by the institution. Furthermore, the institution makes brand recognition by providing education and socialization to the community by arranging creative competition events for prospective students, seminars, social services, educational exhibitions, involving schools in local and national events, and publication of school achievements in print and electronic media, creating social media platforms such as, Facebook, IG, blogs, TikTok, etc. The other effort in building a brand association was by forming a strong and distinctive character which differ from other educational institutions. This strategy is carried out by implementing the tahfidz al-Quran program in which the students are expected to memorize at least 15 chapters and master the basic intermediate level of classical books.
Downloads
Download data is not yet available.
References
Aaker, David A. & Alexander L. Biel. 1993. Managing Brand Equity: Capitalizing on The Value of Brand Name. New York: Free Press (Mobilepocket Reader Version).
Admodiwiryo, Soebagio. 2000. Manajemen Pendidikan Indonesia. Jakarta: Ardadizya Jaya.
Agus R, Abu Hasan dan Bahirotul Ummah. 2019. "Strategy Image Banding Universitas Nurul Jadid di Era Revolusi Industri 4.0." Tarbiyatuna: Jurnal Pendidikan Islam, Vol., 12; No., 1 51-81.
Alfisyahr, Rizal et.al. 2018. "Impact of Brand Image, Country of Origin, and Interpersonal Influences on Purchase Intention." Advance in Economics, Business and Management Research Volume 93 189-192.
Alma, Buchari. 2009. Manajemen Pemasaran dan Pemasaran Jasa. Bandung: Alfabeta.
Arbangki, Dakir, Umiarso. 2916. Manajemen Mutu Pendidikan. Jakarta: Prenadamedia.
Ardianto, Elvianto. 2010. Metodologi Penelitian untuk Public Relation. Bandung: Remaja Rosdakarya.
Assael, H. 2002. Consumer Behaviour a Marketing Action. Boston: PWS-Kent Publishing Company.
Atkinson, R.L., et.al. 1991. Pengantar Psikologi. Jakarta: Erlangga.
B Latif, Wasib,et.al. 2104. "Building Brand Awareness in the Modern Marketing Environment: A Conceptual Model." Journal of Business and Technopreneurship 69-82.
Bonar, S.K. 1993. Hubungan Masyarakat Modern. Jakarta: Rineka Cipta.
Bunker, B.B & Lewicki, R.J. 1996. "Developing and Maintaining Trust in Work Relationships." In Trust in Organizations: Frontiers of Theory and Research, by R.M. Kramer & T.R. Tyler, 114-139. Thousand Oaks, CA: Sage Publication.
Chen, Chin-Tsu. 2016. "The Investigation on Brand Image of University Education and Students' Word-of-Mouth Behavior, Higher Education Studies ." Higher Education Studies, Vol., 6; No. 4 23-33.
Durianto, et.al.,. 2004. Strategi Menaklukkan Pasar Melalui Riset Ekuitas dan Perilaku Merek. Jakarta: Gramedia Pustaka Utama.
Fauzi, Anis & Khawasi. 2016. "Strategi Pengembangan Madrasah." Jurnal Tarbawi, Vol., 2; No, 01.
Gajic, Jelena. 2012. "Importance of Marketing Mix in Higher Education Institutions." Singidunum Journal 29-41.
Gavin, David A. 1987. Managing Quality. New York: The Free Press.
Gilano, Girma. 2021. "Assessment of Educational Quality and Associated Factors: The Case of Arba Minch College of Health Sciences in 2017, South Ethiopia." Educational Research International 1-10.
Grebitus, Carola. et. al. 2007. "Milk Marketing: Impact of Perceived Quality on Consumption Patterns." European Association of Agricultural Economists (online) 2915-232.
Hidayat, Rahmat. 2016. "Manajemen Peningkatan Mutu Lembaga Pendidikan Islam Di Kota Medan." Jurnal Islamic Education Management 13-29.
Indrioko, Erwin. 2105. "Membangun Citra Publik dalam Lembaga Pendidikan Islam." Jurnal Universum, Vol., 9; No., 2 265-274.
Irawan, Denny Hermawan. 2019. "Konseptual Model Pendidikan Demokratis Perspektif Pendidikan Islam." Ta'dib: Jurnal Pndidikan Islam, Vol.8; No., 2 626-631.
Išoraitė, M. 2018. "Brand Image Development." Ecoforum, Vol., 7; Issue 1 14.
Jefkins, Frank. 2003. Public Relations. Jakarta: Penerbit Erlangga.
Juhji. 2020. Manajemen Humas Sekolah. Bandung: Widina Bhakti Persada.
Kartajaya, Hermawan. 2007. On Brand Seri 9 Elemen Marketing. Bandung: Mizan.
Khasanah, Afdatun. 2016. "Pemasaran Jasa Pendidikan Sebagai Strategi Peningkatan Mutu Di SD Alam Baturraden,." Jurnal el-Tarbawi 12-20.
Kotler, Philip. 2006. B2B Brand Management. Berlin: Springer.
—. 2002. Manajemen Pemasaran. Jakarta: PT Prehellindo.
—. 2003. Marketing Management International Edition. New Jersey: Prentice Hall Inc.
Lewicki, R. J., Tomlinson, E. C. 2003. "Trust and Trust Building, Beyond Intractability." In Conflict Information Consortium, by Guy Burgess and Heidi Burgess. Colorado: University of Colorado. Accessed August Sunday, 2021. http://www.beyondintractability.org/essay/trust-building.
Machali, Imam dan Ara Hidayat. 2015. The Handbook of Education Management. Yogyakarta: MPI UIN Suka Yogykarta.
Mahfuzhah, Anshari Hannah. 2018. "Media Publikasi Humas dalam Pendidikan ." Jurnal MPI Al-Tanzim, Vol. 2; No. 213.
Malik, Saif Ullah. 2012. "Customer Satisfaction, Perceived Service Quality and Mediating Role of Perceived Value." International Journal of Marketing Studies 68-76.
Maujud, Fathul. 2017. "Peran Partisipasi Masyarakat dalam Meningkatkan Mutu Pendidikan Madrasah (Studi Kasus di Madrasah Ibtidaiyah Islahul Muta'allim Pagutan Mataram." Jurnal Studi Keislaman dan Ilmu Pendidikan, Vol., 5; No., 2 92-121.
Moore, F. 2005. Humas Membangun Citra dengan Komunikasi. Bandung: PT Remaja Rosakarya.
Mulyasa, E. 2017. Menjadi Kepala Sekolah Profesional . Bandung: Remaja Rosdakarya.
Mundiri, Akmal. 2016. "Strategi Lembaga Pendidikan Islam dalam Membangun Branding Image Pedagogik." Jurnal Pendidikan, Vol., 3, No., 2 58-72.
Murti, Tri Kresna. 2019. "Pengaruh Brand Image, Promosi dan Biaya Pendidikan terhadap Keputusan Mahasiswa Melanjutkan Study pada Prodi Pendidikan Ekonomi ." Jurnal Ilmiah Pendidikan Ekonomi 102-107.
Nashori, Fuad dan Rachmy Diana Mucharam. 2002. Mengembangkan Kreativitas dalam Perspektif Psikologi Islam. Yogyakarta: Menara Kudus.
Nasution, Zulkarnain. 2006. Manajemen Humas di Lembaga Pendidikan. Malang: UMM Press.
Nata, Abuddin. 2001. Paradigma Pendidikan Islam. Jakarta: Grassindo dan IAIN Syarif Hidayatullah Jakarta.
Nurjaman, Ujang. 2013. "Implikasi UU Sisdiknas terhadap Pendidikan Islam." Jurnal Pendidikan Universitas Garut, Vol. 07; No., 1 52-60.
Oliver, Sandra. 2006. Strategy Public Relation. Jakarta: Airlangga.
Pidarta, Made. 2004. Manajemen Pendidikan Indonesia. Jakarta: Rineka Cipta.
Qomar, Mujamil. 2002. "Manajemen Madrasah dalam Menatap Masa Depan: Sebuah Upaya Memberdayakan Pengelola Madrasah." Jurnal Ilmiah Tarbiyah 83.
Riezebos, Rik et.al. 2003. Brand Management: A Theoretical and Practical Approach. Groningen: Financial Times Prentice.
Robbins, Stephen P. and Mary Coulter. 2016. Manajemen terj. Bob Sabran dan Devri Bardani P. Jakarta: Erlangga.
Rohiat. 2010. Manajemen Sekolah. Bandung: Refika Aditama.
Ruslan, R. 2017. Manajemen Public Relation & Media Komunikasi. Jakarta: PT Raja Grafindo Persada.
Sadat, Andi. 2009. Brand Belief: Identifikasi Kepemilikan Sebelum Merek Berbasis Keyakinan. Jakarta: Salemba Empat.
Schiffman, Leon & Kanuk. 2008. Consumer Behaviour. Jakarta: PT. Indeks.
Schiffman, Leon G & Leslie Lazar Kanuk. 2007. Consumer Behavior. London: Prentice Hall International,Inc.
Secundo, Giustina. 2010. "Intangible Asset in Higher Education and Research: Mission, Performance or Both?" Journal Intellectual Capital 140-157.
Servier, R.A. 2000. Brand as Relevance., Recruiting and Development Publication. Cedar Rapids: IA: Stamats Communication, Inc.,.
Simamora, Bilson. 2001. Remarketing for Business Recovery, Sebuah Pendekatan Riset. Jakarta: Gramedia Pustaka Utama.
Sindhu, Mahwish and Shabir Hasan Bandy. 2021. "Stimulating Brand Image through Brand Awareness Using Online Social Networks." Psychology And Education 4101-4113.
Soemirat, Soleh. 2003. Dasar-Dasar Public Relation. Bandung: Remaja Rosdakarya.
Straus, A. I. 1987. Qualitative Analysis for Social Scientists. London: Cambridge University Press.
Suryadi. 2009. Bandung: PT Sarana Panca Karya Nisa.
—. 2009. Manajemen Mutu Berbasis Sekolah. Bandung: PT Sarana Panca Karya Nusa.
Susanto, Himawan Wijanarko. 2004. Power Building (Membangun Merek Unggul dan Organisasi Pendukungnya. Jakarta: Mizan Publika.
Sutojo, Siswanto. 2010. Membangun Citra Perusahaan. Jakarta: PT Damar.
Świtała, Marcin et. al.,. 2018. "The Influence of Brand Awareness and Brand Image on Brand Equity- an Empirical Study of Logistics Service Providers." Journal of Economics and Management 86-119.
Tam, F.W.M. 2007. "Rethinking School and Community Relations in Hongkong ." International Journal of Educational Management 350-366.
Tjiptono, Fandi. 2005. Pengaruh Kualitas Pelayanan, Harga dan Brand Image. Yogyakarta: Andi Offset.
Ubaedillah, A. 2014. Pendidikan Kewarganegaraan Civic Education Pancasila, Demokrasi, HAM, dan Masyarakat Madani. Jakarta: Kencana Prenada Media.
Usman, Husain. 1997. "Permasalahan Pendidikan Menyongsong Pasar Bebas." Cakrawala Pendidikan, No., 1 11-20.
Wulandari, Sri Eka. 2019. "Pengaruh Brand Image, Harga dan Fasilitas terhadap Keputusan Mahasiswa Memilih Kuliah di Politeknik LP3i Medan." Jurnal Ekonomi dan Bisnis, Vol., 16; No., 2 437-446.
Yulianita, Neni. 2004. "Etika Dan Estetika Promosi Pada Aktivitas 'PR' Perguruan Tinggi Swasta." Jurnal Mimbar 194-218.
Yunus, Falah. 2007. Manajemen Peningkatan Mutu Pendidikan. 3 Monday. Accessed August Sunday, 2021. http://www.duniaguru.com/ index.php?option=com _content&task=view&id=176 &Itemid=4 0).
Zeithaml, et.,al.,. 1990. Delivering Quality Services. New York: Free Press.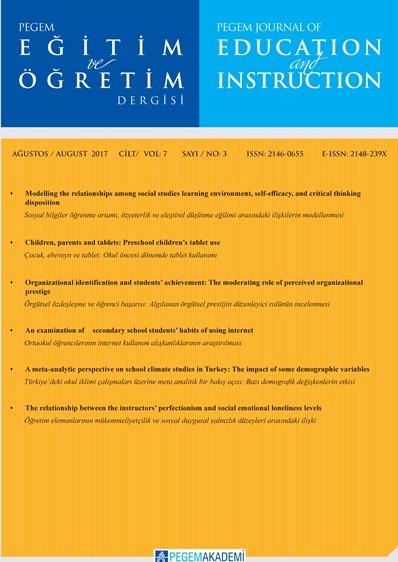 Downloads
How to Cite
Munjin. (2022). The strategies of brand image building at private institution of Islamic education in Purwokerto. Pegem Journal of Education and Instruction, 12(2), 123–132. https://doi.org/10.47750/pegegog.12.02.12
License
Copyright (c) 2022 Pegem Journal of Education and Instruction
This work is licensed under a Creative Commons Attribution-NonCommercial 4.0 International License.
Attribution — You must give appropriate credit, provide a link to the license, and indicate if changes were made. You may do so in any reasonable manner, but not in any way that suggests the licensor endorses you or your use.
NonCommercial — You may not use the material for commercial purposes.
No additional restrictions — You may not apply legal terms or technological measures that legally restrict others from doing anything the license permits.