The development of case study teaching materials for prospective teachers in LPTK
Keywords:
Digital learning materials, case studies, digital content
Abstract
Teaching materials and content on UNP e-learning are already available and can be accessed by students, but case study-based teaching materials with digital content are not available. Teaching materials in the digital form need to be further developed, especially case study-based ebooks. This study was aimed to develop digital teaching materials based on case studies for DDIP courses. This type of research is the R&D ADDIE model. Based on the needs analysis, DDIP teaching materials based on case studies in digital form are the most desired content by students. The development of digital teaching materials based on access studies uses video as an introduction to the case. The validation stage of the teaching materials. Based on the expert assessment of the case study-based ebook validation, 78.1 values ​​range from 61 to 80 which is interpreted as valid. Then the ICC score or ebook intra-class correlation based on case studies, the overall rater level of consistency is good, 0.767 the consistency level is good. Hence, it can be said that this case study-based digital teaching material has been valid and effective, especially for prospective teachers in LPTKs.
Downloads
Download data is not yet available.
References
Babo, R., & Azevedo, A. (2012). Higher education institutions and learning management systems: adoption and standardization. United States of America: Information Science Reference
Corbat, L., Nauval, M., Henriet, J., & Lapayre, J. C. (2020). A fusion method based on deep learning and case-based reasoning which improves the resulting medical image segmentations. Expert Systems with Applications, 147, 113200.
Dick, W., & Carey, L. (1978). Instructor's Manual for the Systematic Design of Instruction. Scott, Foresman & Company.
Eisingerich, A. B., & Rubera, G. (2010). Drivers of brand commitment: A cross-national investigation. Journal of International Marketing, 18(2), 64-79.
Garrido, A., Morales, L., & Serina, I. (2016). On the use of case-based planning for e-learning personalization. Expert Systems with Applications, 60, 1-15.
Karakaya, F., Ainscough, T. L., & Chopoorian, J. (2001). The effects of class size and learning style on student performance in a multimedia-based marketing course. Journal of Marketing Education, 23(2), 84-90.
Kim, S., Phillips, W. R., Pinsky, L., Brock, D., Phillips, K., & Keary, J. (2006). A conceptual framework for developing teaching cases: a review and synthesis of the literature across disciplines. Medical education, 40(9), 867-876.
Kim, K. J., & Bonk, C. J. (2006). The future of online teaching and learning in higher education. Educause quarterly, 29(4), 22-30.
L. Eremias and R. Subash, "E-content development: A milestone in the dynamic progress of elearning," Int. J. Teach. Educ. Res., vol. 2, no. 1, pp. 1–5, 2013.
Mershad, K., & Wakim, P. (2018). A learning management system enhanced with internet of things applications. Journal of Education and Learning, 7(3), 23-40.
Miarso, Y. (2004). Menyemai benih teknologi pendidikan. Kencana.
Moh Jazuli Dkk. Pengembangan Bahan Ajar Elektronik Berbasis Android Sebagai Media Interaktif. Jurnal Pendidikan IPA.Vol 7 Jilid 2. 2017. Hal, 48.
Rahmi, U., Syafril, S., & Azrul, A. (2021, June). Students' Expectations for Blended Learning Discussion in Higher Education. In Journal of Physics: Conference Series (Vol. 1940, No. 1, p. 012130). IOP Publishing.
Rahmi, U., & Azrul, A. (2021). Message Design of Printed and Digital Material to Meaningful Learning. Al-Ta lim Journal, 28(1), 26-34.
Rahmi, U., & Darmawan, D. (2018). Blog folio in blended learning: A development of students' information processing skills in digital age. Al-Ta Lim Journal, 25(2), 128-134.
Rizkiani Maghfirotun Istiqomah. Pengembangan Bahan Ajar Fisika Sma Berbasis Masalah Menggunakan Android Untuk Meningkat Evaluasi Peserta Didik. JRKPF UAD Vol,6. No.1. 2019. Hal,29
Simonson, M., Zvacek, S. M., & Smaldino, S. (2019). Teaching and Learning at a Distance: Foundations of Distance Education 7th Edition.
Syafril, M. P., & Zen, Z. (2019). Dasar-dasar ilmu pendidikan. Prenada Media.
Wahono, R. S. (2018). Sistem e-learning berbasis model motivasi komunitas. Jurnal Teknodik, 21(3), 228-248.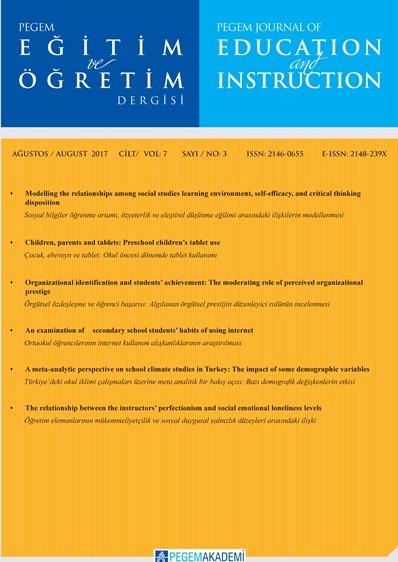 Downloads
How to Cite
Syafril, S., Rahmi, U., & Azrul, A. (2022). The development of case study teaching materials for prospective teachers in LPTK. Pegem Journal of Education and Instruction, 12(2), 193–199. https://doi.org/10.47750/pegegog.12.02.19
License
Copyright (c) 2022 Pegem Journal of Education and Instruction
This work is licensed under a Creative Commons Attribution-NonCommercial 4.0 International License.
Attribution — You must give appropriate credit, provide a link to the license, and indicate if changes were made. You may do so in any reasonable manner, but not in any way that suggests the licensor endorses you or your use.
NonCommercial — You may not use the material for commercial purposes.
No additional restrictions — You may not apply legal terms or technological measures that legally restrict others from doing anything the license permits.